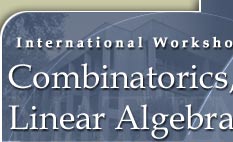 Search Mathematics
Enter your search string here
and click on Go! to continue
Call for Papers
In addition to the confirmed invited speakers a number of sessions for contributed papers will be organized. To be considered please submit an abstract by June 15, 2003 to rezagbk@ipm.ir . A conference proceeding consisting of the invited talks and selected other papers will be published. All papers will be peer reviewed and refereed.

---
© Copyright 1999-2006
Institute for Studies in Theoretical Physics and Mathematics (IPM)
All rights reserved. Please submit your comments or questions here, or contact Webmaster.