Organizers:

Davoud Mirzaei (University of Isfahan)
Seyyed Abbas Mohammadi (Yasuj University)
Mehdi Tatari (Isfahan University of Technology and IPM)

Invited Speakers:
Heinrich Voss (Hamburg University of Technology)
Talk 1: Nonlinear eigenvalue problem, general theory, results and methods. (Abstract )
Talk 2: Variational principles for nonlinear eigenvalue problem.(Abstract )
Talk 3: On a non-symmetric eigenvalue problem governing structural-acoustic vibrations.(Abstract )
Talk 4: Numerical simulation of electronic properties of quantum dots.(Abstract )
Pedro R.S. Antunes (University of Lisbon)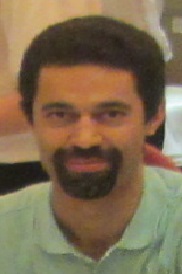 Talk 1: Numerical solution of (linear) eigenvalue problems (Abstract )
Talk 2: Shape optimization involving Laplacian and Bilaplacian eigenvalues (Abstract )
Talk 3: Maximal and minimal localization of Laplacian eigenfunctions in a given subdomain (Abstract )
Talk 4: Is it possible to tune a drum? (Abstract )
​
Hayk Mikayelyan (University of Nottingham)
2 Talks : Regularity of Mumford-Shah minimizers at the crack-tip.(Abstract )
Schedule of talks: here
Registration:
Please fill out the Registration Form and send it to mtatari@cc.iut.ac.ir & ddmirzaei@gmail.com with the subject: "Workshop on PDE"
Registration Fee:
You can get more information about the registration fee and accommodation here.
Deadlines:
Deadline for registration: July 9, 2016 (Tir 19, 1395)

Contact:


Mehdi Tatari
Department of Mathematical Sciences,
Isfahan University of Technology, Isfahan 84156-83111, Iran
Phone: 0098 (31) 33913676
Email: mtatari@cc.iut.ac.ir
Davoud Mirzaei
Department of Mathematics,
University of Isfahan, Isfahan 81745-163, Iran
Phone: 0098 (31) 7934635
Email: ddmirzaei@gmail.com
Address:
IPM-Isfahan Branch,
University of Isfahan,
Isfahan 81745-157, Iran
Phone: 0098 (31) 3793 2319
Email: ipm-isfahan@ipm.ir
http://math.ipm.ac.ir/Isfahan/